Watch It Work
In the status bar on the dashboard, live ticker messages provide realtime infor­mation about exactly what's happening at that moment — backing up a comment, adding a new post, or changing an option, for example.
Works Even When You Don't
There are some changes that WordPress isn't aware of such as files uploaded via FTP. To take care of those cases VaultPress scans your site every evening and picks up the changes.

If you're a premium subscriber, VaultPress then scans the files for potential threats or exploits. You can view the results on your Security page.
Additional Help
VaultPress offers contextual help with one click right at the top of each dashboard page.


In the Support section, you can consult the FAQ, research plugin configuration options, view screencasts on how to restore a site from a backup, and send us your questions.
One-Click Database Restore
Easily restore your site's database using any VaultPress backup with the Restore Database button.
Restore Your WordPress Files

VaultPress enables the retrieval of files right from the dashboard. Archived versions of your plugins, database, uploads, and themes are all available for download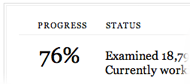 on the backup page with one click. And if you ever need help, the VaultPress Safe­keepers are ready to pro­vide hands on concierge service.
Concierge Service
When you install the VaultPress plugin, it opens a channel for our security and backup specialists to directly protect your critical WordPress sites. Our WordPress experts will help you with initial setup, restoring your files, and any needs in between.